Oh wow! I can't believe some of college friends and former classmates just did a special tribute for my 18th birthday a while ago! I really didn't expect it! I was so surprised and flattered! Each wrote some messages for me. And they even bought me a cake which was really cute in green! haha. Look: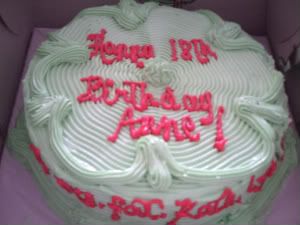 Anyway, I really appreciate these people. I'm glad I have them in my life. Thank you very much! God bless you all! ♥ ♥ ♥
P.S.
I hope one of my friends would upload the group pic soon so I could post it in here too! I would really love it if I get to do that! Such a great memory for me! So until then, just wait for the pic huh? Thanks! Byeeeee!
P.S. for the last time. LOL
Hey, my friend finally uploaded the group pic. I don't think I look good in there (like I've always been! haha) but I still wanna share it with you. heh:) So here's it: